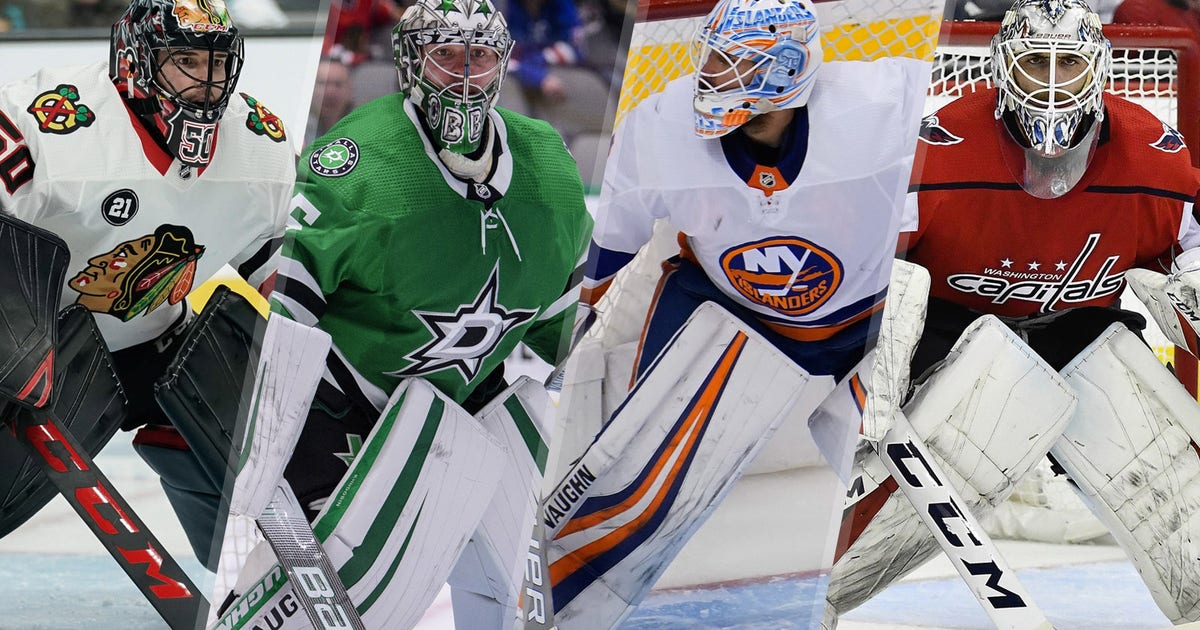 The NHL offseason begins in earnest Friday as free agency opens.
The Minnesota Wild appear to be in the market for a goaltender, with Devan Dubnyk dealt to San Jose. Alex Stalock took over as the Wild's No. 1 goalie last season down the stretch and in the playoff bubble, finishing with a regular-season record of 20-11-4 with a 2.67 goals-against average and .910 save percentage.
More Wild coverage
Stalock, though, is a 33-year-old career backup – he had never started more than 23 games in a season previously – and will Minnesota want to rely on him as general manager Bill Guerin shakes up the roster?
The Wild do have 24-year-old Kaapo Kahkonen, who started five games last season, going 3-1-1 with a 2.96 GAA and .913 save %.
But if Guerin and the Wild want to turn elsewhere, which is the direction things appear to be trending, and want to go the free-agent market, here's a few goalies that might fit the bill.
Corey Crawford
Crawford's 13-year career with Chicago is coming to an end as the Blackhawks have already said they won't try to sign the netminder, who will turn 36 in December. Crawford has a career 2.45 GAA and .918 save % — last season in 40 games he had a 2.77 GAA and .917 save %. A two-time Stanley Cup champion, he owns a 2.38 GAA and .918 save % in the playoffs. He's nothing if not consistent.
Thomas Greiss
Greiss has had a solid 11-year career with San Jose, Phoenix, Pittsburgh and the New York Islanders, where he's spent the last five seasons. He posted decent numbers in four of those five years, including a .925 save percentage and 2.36 goals-against average in 2015-16 and .927 and 2.28 in 2018-19. Last season in 31 games (28 starts), he had a 2.74 GAA and .913 save %. Over his career in 193 games, Greiss, who will turn 35 in January, has a 2.63 GAA and .915 save %.
Braden Holtby
Maybe a change of scenery out of Washington will re-ignite the career of the one-time Vezina Trophy winner (2015-16) and Stanley Cup champion. Holtby was on the NHL's best goalies from 2012-17, posting a save percentage of .920 or better in four of those five seasons (and .915 in the other). But since recording a career-best 2.07 GAA in 2016-17, which included nine shutouts, he's had just three shutouts since (all in 2018-19). He had career worsts in GAA (3.11) and save % (.897) in 48 games with the Capitals last season, although he was a little better in the playoffs (2.49, .906 in eight games).
Anton Khudobin
He might be the prize of the goalie free-agent class. This past season with Dallas, the 34-year-old, 11-year veteran led the NHL with a .930 save percentage while also posting a career-best 2.22 GAA – despite not recording a shutout. He had a 2.69 GAA and .917 save % in the Stars' march to the final. Nominally a backup for his first nine seasons, Khudobin had a 2.57 GAA and .923 save % for Dallas in 2018-19. Khudobin was originally a seventh-round pick of the Wild and appeared in six games for Minnesota from 2009-11.
Jacob Markstrom
You're not going to find any veteran goalies under 30 on the free-agent market, but Markstrom is close – he'll turn 31 in January. Markstrom has emerged as a steady goalie the past few years with Vancouver, with a GAA between 2.63-2.75 and a save percentage between .910-.918 in each of the past five seasons. He can carry the brunt of a load if needed, too, having started 57 games in 2017-18 and 60 in 2018-19.
Cam Talbot
Once a workhorse for Edmonton – he started 73 games in 2016-17 (2.39 GAA, .919 save %) and 67 games in 2017-18 (3.02 GAA, .908 save %), Talbot re-emerged as a backup with Calgary this past season, posting a 2.63 GAA and .919 save % in 26 games (22 starts). In 10 playoff games, he was even better – 2.42 GAA, .924 save %. Maybe the 33-year-old is worth a flyer.