This year's Major League Baseball season is like none other and so will be the playoffs.
For the first time, eight teams in each league will make the postseason – and with a week and a half of games remaining the Minnesota Twins are a pretty safe bet to be one of the eight.
This year, the top-two teams in each division make the playoffs as well as the two teams outside of that group with the best records.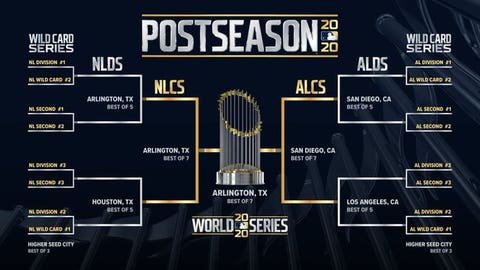 The Twins enter Wednesday's game against Chicago three games behind the White Sox for the AL Central lead but three games ahead of Cleveland for second place. Minnesota also has a two-game edge over the New York Yankees for the best record among second-place teams.
STANDINGS THROUGH 9/15 (note: GB is the Twins' number)
INSERT CHART
Let's look at the upcoming schedule for Minnesota and some of the teams which have meaning in its playoff hunt.
WHITE SOX
Schedule: Sept. 16-17 vs. Minnesota; Sept. 18-20 at Cincinnati; Sept. 21-24 at Cleveland
Skinny: Chicago plays nothing but playoff possible from now until the end of the regular season (closing against the crosstown Cubs). The White Sox's mix of younger and older players has worked well in this shortened season and perhaps have done better than most expected. Chicago leads the American League in runs, batting average, on-base percentage and slugging percentage and is second in ERA. That's a pretty good sign for a team's success.
More Twins coverage
TWINS
Schedule: Sept. 16-17 – at Chicago White Sox; Sept. 18-20 at Chicago Cubs; Sept. 21-23 vs. Detroit
Skinny:
Skinny: Minnesota is just 9-15 on the road this season and 21-5 at home. Getting that home-field advantage for a three-game wild-card series would then seem pretty important. Minnesota does finish up the season at home but first must get through the Chicagos. The Twins are 4-4 against the White Sox in 2020 and have yet to play the Cubs (but are 10-4 vs. NL Central teams).
YANKEES
Schedule: Sept. 16-17 – vs. Toronto; Sept. 18-20 – at Boston; Sept. 21-24 – at Toronto (at Buffalo).
Skinny: New York has underwhelmed this season, and part of that is due to injuries to players such as Aaron Judge and Giancarlo Stanton and part is due to some veterans like Brett Gardner (.185) and Gary Sanchez (.131) really underperforming. But the Yankees do have a 0.8 average run differential (same as Minnesota), still have Gerrit Cole and Masahiro Tanaka and remain a team the Twins probably don't want to see in a best-of-three opening series. Six games left with the Blue Jays loom large.
BLUE JAYS
Schedule: Sept. 16-17 at New York Yankees; Sept. 18-20 at Phillies (includes doubleheader); Sept. 21-24 vs. Yankees
Skinny: Toronto's offense has been middle of the pack in the American League and its pitching has been middle of the pack in the AL. The Jays have allowed more runs than they've scored. And they enter Wednesday five games above .500. As mentioned in the above blurb, the Yankees series is big (the teams have split their four games). Toronto is 2-0 against Philadelphia this year and 6-1 vs. Baltimore, the final opponent of the year.
INDIANS
Schedule: Sept. 16 – at Chicago Cubs; Sept. 17-20 – at Detroit; Sept. 21-24 vs. Chicago White Sox.
Skinny: Maybe trading Mike Clevinger was a signal. Cleveland traded the starting pitcher on Aug. 31 and are 5-10 since (including that date). The Indians are riding a seven-game losing skid heading into Wednesday's game. Cleveland does get to play Detroit, which is 5-10 in September, and last place Pittsburgh (to finish the season), so there might be a chance to turn things around. A wild-card spot seems likely and an opponent having to face Shane Bieber, Carlos Carrasco and/or Zach Plesac in a shot series is a Cleveland advantage.