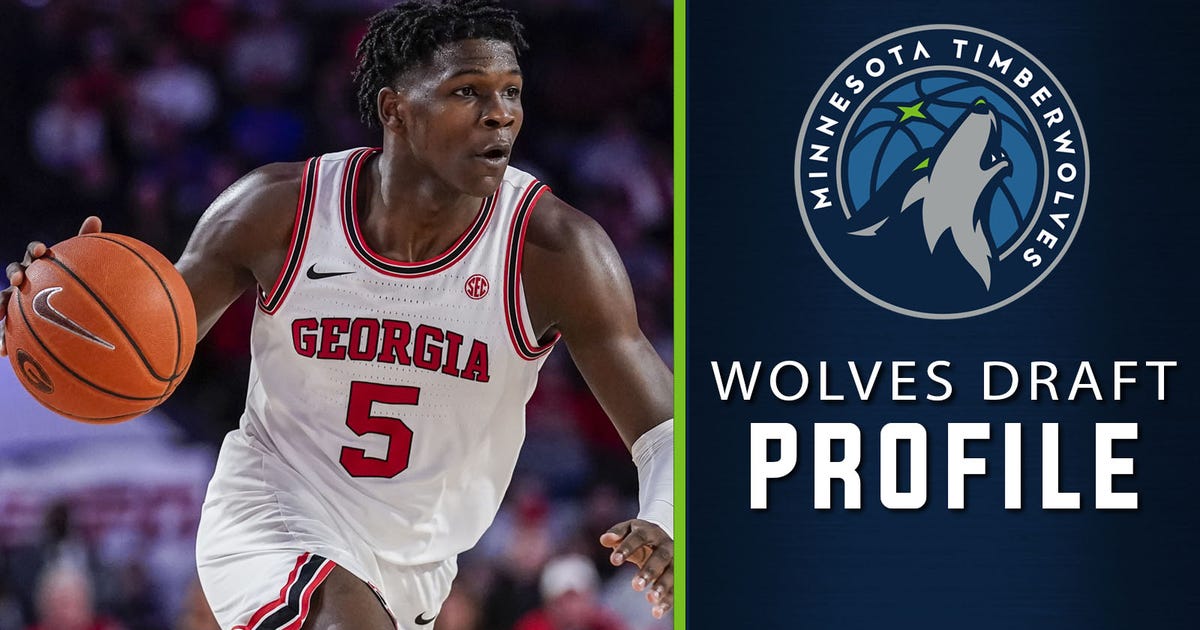 Winter is approaching and the days are getting shorter. That means the 2020 NBA season is almost here!
Due to the redone 2020 season schedule, the NBA draft will be held Nov. 18 while the 2020-21 season will begin Dec. 22.
The Minnesota Timberwolves own two picks in the first round: the top overall selection as well as No. 17. Who might they be interested in at No. 17?
In this edition, we take a look at Georgia shooting guard Anthony Edwards.
Wolves NBA draft prospect profiles
OVERVIEW
Edwards is from Atlanta and went to Holy Spirit Preparatory School. The athletic shooting guard was considered a five-star recruit and was second-highest ranked top player in the 2019 class by 247 Sports. Edwards was one of the biggest names in the 2019 McDonald's All-American Game and recorded 12 points, three assists and two rebounds in the game.
He averaged 19.1 points, 5.2 rebounds and 2.8 assists on 40.2% shooting during his freshman season with the Georgia Bulldogs. Edwards finished third in the SEC in scoring, earning the Freshman of the Year and was named to the All-Conference second team.
COMBINE
Edwards skipped the combine.
MEASURABLES (via nba.com)
Height: 6-foot-3
Weight: 225 pounds
Wingspan: 6-10
FILM ROOM
[embedded content]
WHAT THEY'RE SAYING 
"Edwards is a big, strong, powerful, athletic guard who was extremely erratic and inefficient as a freshman at Georgia. He only shot 40 percent from the field and 29 percent from 3, and there are also some off-court concerns from NBA teams. However, he's a guy who has great size and an NBA-ready body for a wing — and he should be able to get buckets quickly in the NBA." — Stadium's Jeff Goodman
"Strengths: 6'4 combo guard with elite level athleticism … Shows a good feel for the game and competitiveness … Good size and length for position with a 6'9 wingspan and 8'4 standing reach … Strong build. At 17, already has an NBA body … Uses his strength well and should be able to add additional strength … Finishes well with contact and can bully smaller guards … High-level athleticism, good body control, and hang time … Has a quick first step … Gets to the rim and throws down dunks in traffic … Gets going downhill with a dribble drive and finishes well with either hand … Natural scoring ability … Shoots well from three and can shoot from NBA range … Needs just a little bit of space to get his shot off … Adept ballhandler and drives with either hand … Keeps his head up and has good court vision … Reads double teams well … Passes out of drives … Good rebounder for his position … Good tools and athleticism defensively …  Blocks shots well for a guard … Makes the game look easy … Good competitor and doesn't lack for confidence." — NBAdraft.net
.@UGABasketball's Anthony Edwards can do it all. Should the #Timberwolves draft him with the top pick?@Stadium's @GoodmanHoops gives a scouting report.

Read ➡️ https://t.co/T5Iy4atOqg pic.twitter.com/vQXUpIEEPm

— FOX Sports North (@fsnorth) November 17, 2020
"Strong, elite athlete off two feet and very good off one. Quick reaction time with hands and changing body position – quick hip turns and quick hands. Quick first step / burst, with good acceleration getting downhill – strength allows him to stay on his path without getting bumped by defenders…does a nice job actually dislodging them on his way and at the rim. Has really quick feet, even when his stance is a bit too far wide – makes me think that there might be another lateral quickness level (or at least more consistency) if he brings his feet closer in a little." — Spencer Pearlman of The Stepien
HOW HE FITS
If Minnesota uses its No. 1 pick, then Edwards is a logical choice. He is a lengthy and athletic wing who the Timberwolves could use right away. While Edwards has shown the ability to put up points and grab rebounds, his biggest red flag is his efficiency. He only shot 40.2% from the floor at Georgia and connected on 29.4% of his 3-point attempts. Those are at least correctable issues for Edwards and he has the talent, athleticism and skill to eventually make those fixes at the next level.