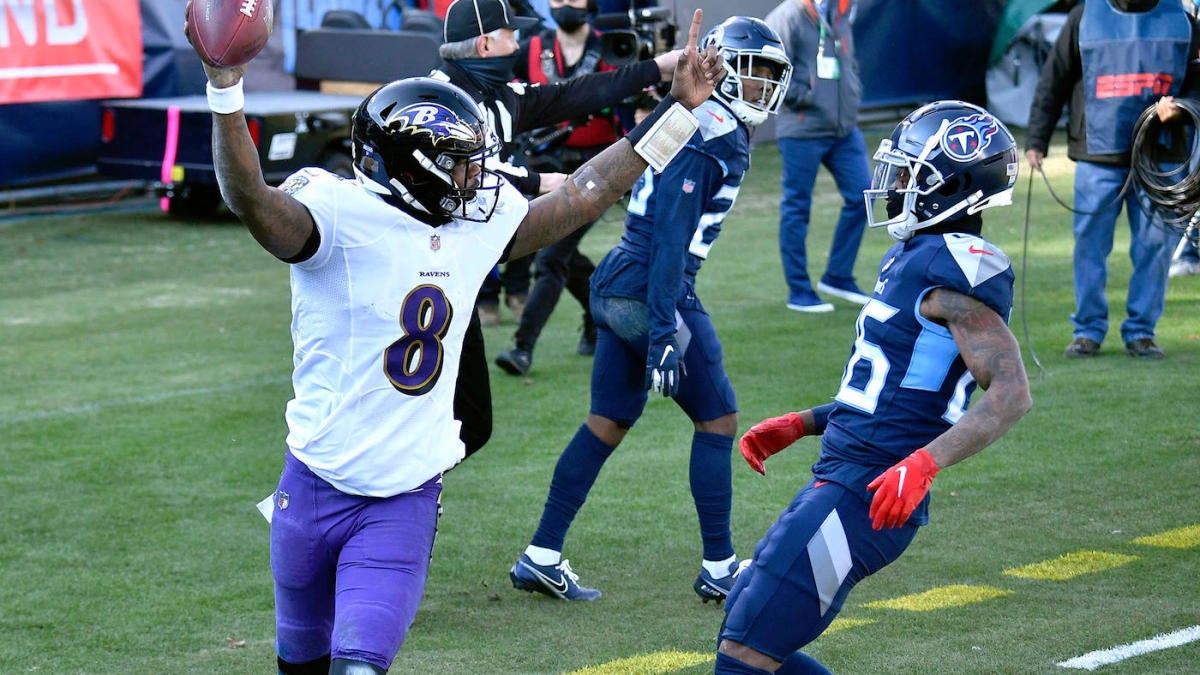 Lamar Jackson wanted desperately to exorcise the demons infused into his career by the Tennessee Titans, and he did just that with a 20-13 victory at Nissan Stadium on NFL Super Wild-Card Weekend. Things didn't start off the way he planned though, and he had to battle back to get the job done. While the Baltimore Ravens did a magnificent job containing all-world running back Derrick Henry in the first half and ultimately for the remainder of the game, they got off to a rocky beginning in attempting to stop Ryan Tannehill. 
The latter initially showed throughout the first quarter he had the ability to carry the Titans offense — especially with the help of A.J. Brown. The Pro Bowl wideout hauled in the first touchdown of the game with star cornerback Marlon Humphrey attempting to stop him — on a play Ravens fans will remember as a possible offensive pass interference that went uncalled in the end zone. 
Of course, that simply added fuel to an already raging fire that exists between these two teams, but it was the Titans imposing their will early on, despite Henry's struggles. Jackson threw an arid interception to defensive back Malcolm Butler that was as poor of a pass as you'll see, leading to a Tennessee field goal, before making two keyhole passes to put the Ravens in striking distance. Unfortunately for him, linebacker Brooks Reed ended the drive with a five-yard sack that forced Baltimore to settle for a field goal on what was its best offensive drive of the game to that point. 
And then it happened: Jackson turns on the burners late in the second quarter to blow past the Titans for a 48-yard touchdown to tie the game after going down 10-0, and reaching a blistering top speed of 20.52 mph in the process, per Next Gen Stats. 
That was a hint at things to come from Jackson, who extended drives in the second half with his legs as well as his arm, with the help of a 100-yard game from wideout Marquise "Hollywood" Brown. The Ravens get their revenge and shut down the league's best rusher in the process, giving the Titans a taste of their own medicine this time around — in a game that had them listed as favorites but felt as if they were the underdogs initially. The reigning league MVP ran for 137 rushing yards and lives to fight another day, after two-time All-Pro cornerback Marcus Peters secured the game-sealing interception on Tannehill with less than two minutes left to play, moving to the AFC divisional game for the first time in his young career.
Full analysis of this AFC South clash is on the way but, while you wait, scroll the live blog below for action you might've missed.