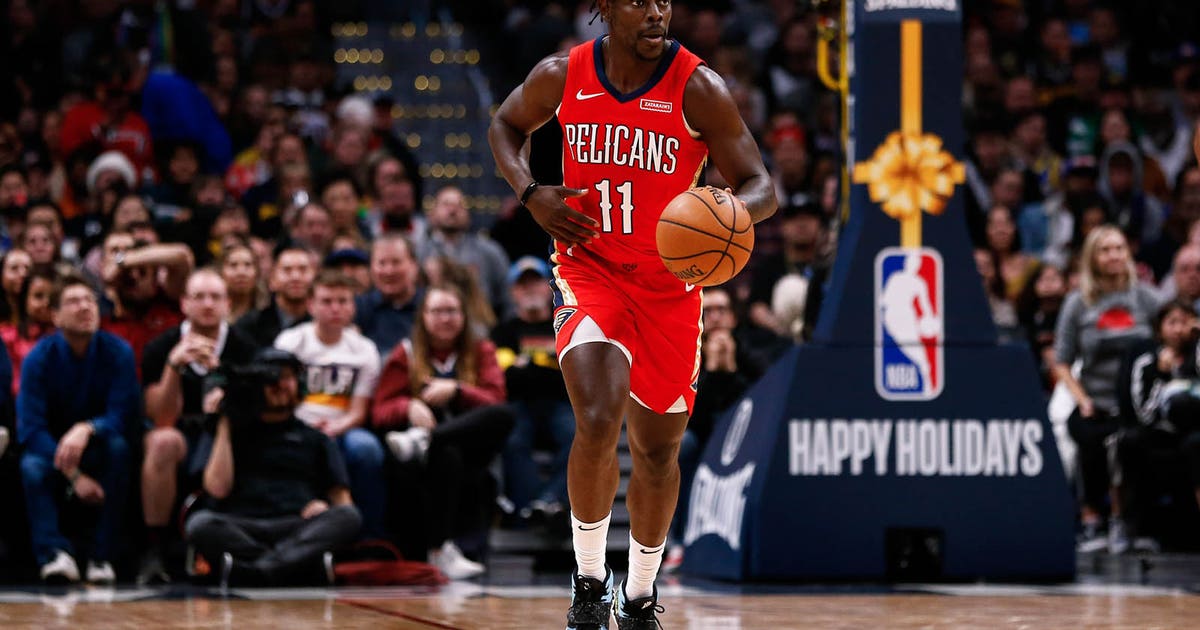 Giannis Antetokounmpo has a new running mate in Milwaukee.
In a four-team trade between Denver, Milwaukee, New Orleans and Oklahoma City officially announced Tuesday, the Bucks acquired guard Jrue Holiday and the draft rights to Sam Merrill (No. 60 overall) from the Pelicans.
Milwaukee sent guard Eric Bledsoe and two future first-round picks to New Orleans, as well as guard George Hill to the Thunder and the draft rights to R.J. Hampton (No. 24 pick) to the Nuggets.
More Bucks coverage
In addition to the trade, the Bucks also announced they re-signed guard Pat Connaughton and inked second-round pick Jordan Nwora to a contract Tuesday.
A first-round pick (No. 17 overall) by Philadelphia in 2009, Holiday spent four seasons with the 76ers from 2009-13. He had his lone All-Star season with the Sixers in 2012-13, averaging 17.7 points and 8.0 assists per contest.
Holiday joined the Pelicans the following year and spent the next seven seasons in New Orleans, helping the team to two playoff appearances. In 2019-20, Holiday averaged 19.1 points, 6.7 assists and 1.6 steals in 61 contests.
"Jrue is an incredibly high character person and one of the premier guards in the NBA," Bucks general manager Jon Horst said in a statement. "He will make us better on both ends of the floor, as he's an elite defender and a proven playmaker on offense with the ability to score, shoot and facilitate. His experience will help our team and we are thrilled to welcome him and his family to Milwaukee."
Holiday was a selection to the All-Defensive first team in 2017-18 and the All-Defensive second team in 2018-19. The 30-year-old was also voted the Teammate of the Year last season by his NBA peers.
He will become an unrestricted free agent after the 2021-22 season.
Milwaukee bids farewell to Bledsoe and Hill, a pair of guards who gave the Bucks veteran talent and depth in the backcourt.
The Bucks traded for Bledsoe midway through the 2017-18 season. He averaged 16.3 points, 5.3 assists and 4.4 rebounds in 210 contests in Milwaukee. However, Bledsoe consistently struggled in all three postseason runs with the Bucks, shooting just 25.4% from 3-point range in 31 playoff games.
"Eric and George were major contributors to our winning culture in Milwaukee," Horst said. "They are talented players but even better people. We thank them and their families, and we wish them great success moving forward."
Connaughton signed a reported two-year deal worth $8.3 million. In 2019-20, Connaughton averaged 5.4 points and 4.2 rebounds while playing 18.6 minutes per game. The 27-year-old found his way into the national spotlight by putting on a show at the 2019-20 NBA dunk contest.
Nwora, the 45th overall pick of the 2020 draft, registered 18.0 points, 7.7 rebounds and 1.3 assists per contest as a junior for Louisville last season.