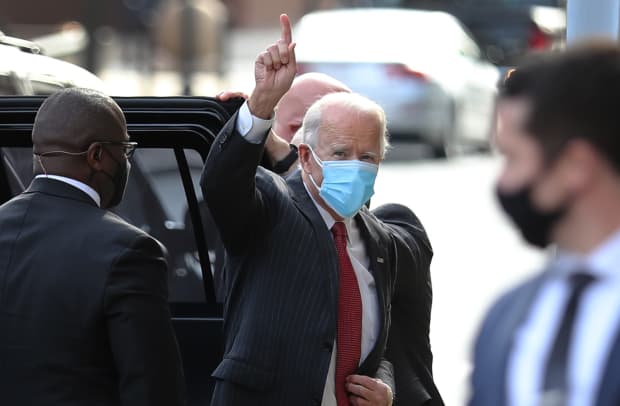 Joe Biden en route to a Thursday virtual meeting with the National Governors Association's executive committee.
Getty Images
President-elect Joe Biden had stronger words Thursday afternoon for President Donald Trump and his refusal to concede the recent presidential election.
"What the president is doing now is going to be another incident where he will go down in history as being one of the most irresponsible presidents in American history," Biden said during a press conference in Wilmington, Del., when asked about Trump's refusal to concede, which has prevented the president-elect from accessing funds, personnel and key information in advance of his inauguration on Jan. 20.
Biden said that he would not speculate as to the president's motives for continuing to contest the election, even after the Trump campaign has lost more than two dozen lawsuits in battleground states seeking to have ballots thrown out or elections ruled invalid.
When asked whether his campaign would resort to legal means to force the Trump administration to begin the formal transition process, he said that he didn't think lawsuits would lead to a timely recognition of his victory, but that "we haven't ruled it out."
The president-elect also addressed his plan for nominating a Treasury secretary, saying he'd announce his selection either before or soon after the Thanksgiving holiday. Press reports have speculated that leading contenders include include Fed Gov. Lael Brainard; Sen. Elizabeth Warren, the Massachusetts Democrat; and former Federal Reserve Chairwoman Janet Yellen.
Biden also praised the Fed for its monetary policy of recent years. "Our interest rates are as low as they've been in modern history, and I think that's a positive thing," he said. "It lends credence to the possibility of us being able to … deficit spend in order to generate economic growth right off the bat."